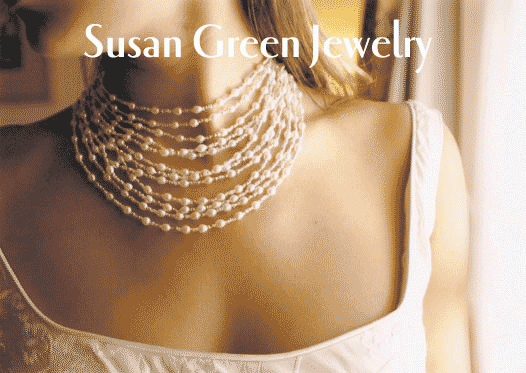 click here for New Bridal Line Image Gallery
Contact:
Leeor Sabbah
Susan Green Jewelry, New York Representative
(212) 645-5424
leeor@susangreenjewelry.com
Renowned Jewelry Designer Susan Green Offers New Bridal Line
New York - After thirty years as a successful jewelry design house in the arena of high fashion, couture and wearable art jewelry, designer Susan Green announces the introduction of her bridal line designed specifically for the new bride and bridal couture. Initial showing will take place at the Pacific Designer Collection Show, September 27 through 29, 2004 in Suite 1203 of the Rihga Royal Hotel, 151 W. 54th Street, New York, NY.
"Designing a bridal line is a fresh, new endeavor. The necklaces are exquisite, as I have chosen the finest materials – lustrous pearls and sparkling crystals which bring light to the bride's face and reflect her glow," says Green. "The bridal necklaces are intricately crafted with an old world attention to detail. They are both contemporary and classic in design and will be cherished by the bride for years to come."
The current line consists of a dozen necklaces and encompasses a range that will compliment any gown from the dramatic contemporary styles to vintage lace. The necklaces feature a variety of white and ivory hand selected pearl shapes: teardrops, tiny rice pearls, button, disc, and baroque freshwater pearls. The pearls are combined with crystal, both quartz crystal and Swarovski crystal from Austria. A choice of coordinated earrings is also offered.
Each piece is individually made with hours of handwork, attention to detail, and beauty of design, featuring Susan's signature fiber wrapping of antique and contemporary silver and gold metallic threads, silk, and rayon. Susan has designed a clasp especially for the delicate bridal pieces available in sterling and pale bronze. Master artisans work in an atelier setting in the designer's studio in Santa Fe, carefully creating each necklace by hand.
"I feel a deep connection with celebrating the passages of a woman's life and the most beautiful of all is her wedding day, a time she has dreamed of since childhood. She wants every aspect of this day, particularly her appearance, to be utterly beautiful. The Bride is an archetypal symbol for love, promise and pure beauty. To make a necklace for a bride to wear on this occasion is a great honor," according to Green.
Susan Green Jewelry produces collections of one-of-a-kind and limited edition jewelry sought by many of the country's finest stores, galleries, and collectors of couture and contemporary design. Her pieces are distinctive and recognizable for their high level of artisanship, dynamic coloration and unusual materials. Green translates ethnic influences and images from nature into elegant, contemporary shapes with sophisticated expression. Her jewelry is designed to compliment the form and movement of the body. There is a feeling of magic and adornment in her work, which communicates a sense of pleasure to the wearer.
Susan Green Jewelry has recently appeared as the cover feature in the Winter 2003/2004 issue of Ornament Magazine. Her work has also appeared on the Bergdorf Goodman Magazine Fall Collections 2003 cover and in Harper's Bazaar, Vogue, Elle, Essence, Town and Country, Esquire, Interview, American Craft, San Francisco Magazine, Focus, People, California Living, Image, The Ritz-Carlton Magazine, and the New York Times. Many fine stores carry Ms. Green's creations including Origins in Santa Fe, Dreamweaver in Sarasota and Martha's Vineyard, Harari in Los Angeles, The Rafael's in San Francisco, Zonda Nellis in Vancouver, and Eileen Coyne in London.
Susan Green Jewelry * 628 Alarid St. * Santa Fe, NM 87505
Phone: (505) 466-4130 * Fax: (505) 466-0236 * susan@susangreenjewelry.com
New York Office c/o Leeor Sabbah * 708 Greenwich Street * New York, NY 10014
Phone: (212) 645-5424 * Fax: (212) 741-0373 * leeor@susangreenjewelry.com